The material included below provides insights into my teaching philosophy and the way that it manifests itself in my courses with specific examples.  This section also includes sample course projects and exercises (which demonstrate student success), letters of support from faculty and community partners, sample syllabi, evidence of advising, and student references.
Teaching Philosophy
The ultimate goal of the educational experience is to help students acquire skills (tools), experiences, and perspectives that will help them lead more rewarding lives – achieve more professionally, build stronger families, and make a difference in their community.  We need to equip and inspire the next generation of leaders so that they can bring about positive change.
We do not want to give students "the answer(s)".  We want to help students acquire the analytical and critical reasoning skills required to find the optimal solution given the best information we have to work with.  A well known Chinese proverb states "If you give a man a fish you feed him for a day. If you teach a man to fish you feed him for a lifetime."  Our students need to become exceptional fishermen.
We live in a world filled with uncertainty.  Decision making, personally or professionally, requires risk.  Students need to learn to embrace it, understand how to weigh the alternatives, and make "informed" decisions that challenge the status quo.  There is no shame in being wrong as long as we are making well reasoned decisions and we can learn from our mistakes.  Students should learn to fear indecision and apathy much more than short-term failure.
We should present the best ideas and cutting edge research that academia has to offer and combine that with best practices from industry that are proven to work.  We must synthesize the practical with the theoretical to provide a rich tapestry of techniques and potential solutions.  We should never stop seeking new answers or expanding the depth of our understanding.
We need to include different approaches to reach students with different learning styles. Academic curriculum should include current events, case studies (stories), and models that students can understand and embrace.  Knowledge that is tied to an experience tends to be much easier to retain and apply than a bullet list memorized out of a text book. The benefits of experiential learning are well documented.
Kolb, D. (1984). Experiential learning: experience as the source of learning and development. Englewood Cliffs, NJ: Prentice Hall.
Before we can educate, using theories, lessons, or experience, we need to engage with students. Education should not be just about "filling" heads with knowledge.  Education is a process and students should play an active role in creating the knowledge that they will use.  We all bring a unique collection of lessons and experiences to the table – the teacher, the student, and curriculum provider(s) – all enhanced by the world around us.  We need to be able to leverage all of these unique perspectives to assure the richest possible learning experience.
Here is a recent presentation delivered for CTLA that covers student engagement goals and techniques…
Meaningful education takes dedication and hard work on the part of the student and the teacher. We need to create an environment, that challenges students to do more than they know they can do, in a way that is both fun and interesting. The teacher must be willing to learn from students as well. We all have so much more to gain by establishing a collaborative partnership with educational excellence as the objective.
Teaching Philosophy In Practice
So, with these thoughts in mind… Here is how they translate into practice.
In the classroom, the focus is on having a guided discussion with students rather than just lectures. I ask questions to get students engaged in the discussion. A portion of the grade for my on campus courses includes attendance and participation. When students are not participating actively, I call on them to get them more involved in the discussion and help build their participation points. I like to know (and call on) my students by first name in order to make the conversation more personal. This type of interactive learning can help keep the class material interesting and keep students connected to the topic(s).
The class sessions are guided with PowerPoint slides. This helps with the structure and flow of class. The slides are posted on Canvas in advance of class. A liberal amount of video clips and exercises are used throughout the discussion. The whiteboard is used to highlight important points and walk through specific examples. The variation in learning medium helps break up the flow to keep things fresh and interesting. Students these days are used to consuming video on their smartphones and computers. By embracing this medium, and other digital tools, we can create more engagement then a canned lecture would provide.
When selecting discussion topics and videos, I try choose topics that are related to popular culture or current events. Class discussions become a lot more meaningful for students when they can see these same concepts at work in everyday life. There are discussion segments that investigate "the numbers" behind the Super Bowl, Halloween, Thanksgiving, Christmas, and even Cinco de Mayo – in our economy there is a business component to most holidays.
It is one thing to talk about buyouts, takeovers, and the dangers of having too much leverage (debt) in a firm's capital structure. It is quite another to play news reports covering the Haggen acquisition of 146 Safeway/Albertson stores in 2015 (growing from 18 to 164 stores overnight); and then tracking their progress in factoids and news clips; including the high profile bankruptcy that occurred less than 12 months later. In classes where we have this discussion, most of the students can point to a store in their home town, or someone they know, who was affected. This not only gives us the opportunity to discuss the course concepts (e.g. finance, marketing, strategy…), but also how this type of behavior impacts students and the entire community (social responsibility).
In marketing class, rather than just talking about differentiation and positioning for consumer products, I show students different brands of macaroni and cheese – most students can identify with this example.  We talk about their own preferences and buying behavior.  Some students have a brand preference for national brands like Kraft, and are willing to pay the premium for it; while others would prefer the house brand to save a couple bucks. We explore pictures of the packaging and see that not all house brands are the same either.  We can talk about different product variations (e.g. boxed, packaged with liquid cheese, canned, frozen, warm from the deli counter, …) and what providers are trying to accomplish with each offering.
In many cases, I take this one step further and get the students to step outside the class and engage with their environment as well. So, in this example, I send students to the store and tell them to take pictures of the offerings, along with displays (if any), and come back to class prepared to discuss what they saw. This tends to make the concepts even more concrete and gets students actively involved in the topic.  
In marketing class, to re-enforce a discussion on creativity and innovation, we created our own episode of Chopped, modeled after the Food Network TV show, with macaroni and cheese as the featured ingredient. Students worked together to create the rule for the contest, I provided the noodles and a host of different ingredients, and the students had to create offerings to reach different (consumer) audiences. The woman's softball team came in to judge the event for us. The students who were in this class still bring it up when I see them. In fact, some students who were not in the class, ask me when we will offer this again.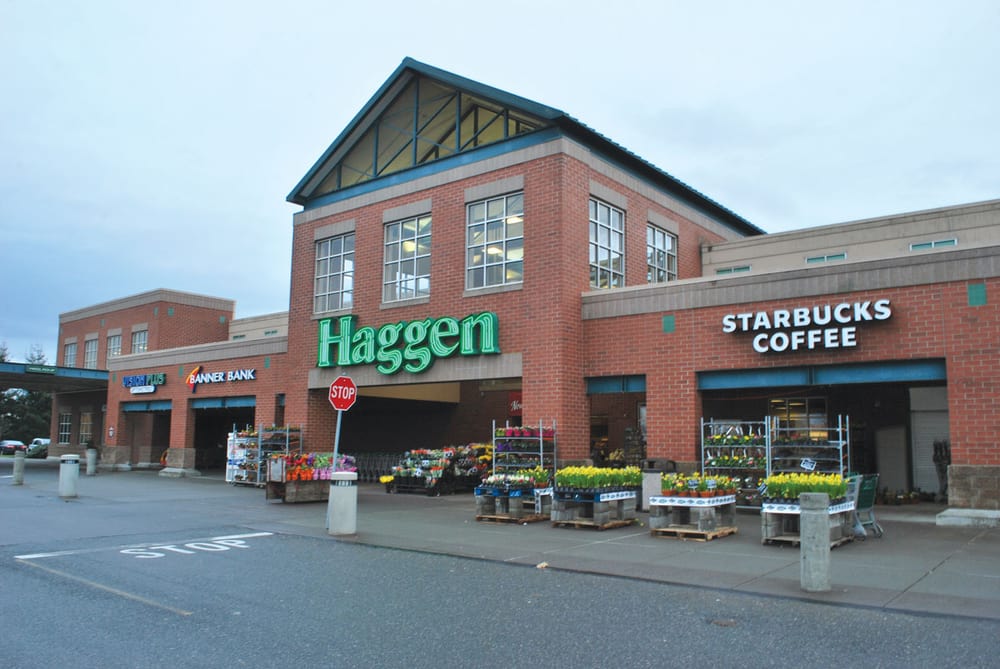 In marketing promotions, I worked with students to make a list on the board of all the possible places they could go to buy a pizza.  We worked together to prioritize this list.  Then the students broke into groups and each group went to visit one provider on the list.  They took pictures, interviewed at least one person working there, and got information on pricing and delivery (where available).  Then they came back to class and we mapped each offering based on target audience, price point, key attributes of the offering (pizza, location, setting …), and other relevant factors. As the exercise developed it became much easier for students to identify specific market segments and the marketing mix associated with each offering.  
These students were able to discover the lesson, based on their own experience, and working with a topic that was meaningful to them.  We finished off the session with a pizza from Domino's. We also hosted a session with Jessy Watson, owner of the local Domino's franchise, and Assistant Coach of the men's soccer team, so that he could share the challenges and rewards of competing as a pizza provider in the local market.
We've had students conduct surveys on campus and in the community, visit local stores and businesses, and experience offerings we are studying first-hand.  We can't do this kind of thing for every lesson, but when we can, the students appear to be much more engaged, and recall seems to improve.  I do my best to connect the classroom to the outside world, and the community, whenever possible.  

In addition, in all my classes we embrace technology like email, Canvas, Zoom, and YouTube. Courses, both online and on campus, are organized in Canvas by weekly module.  The readings, discussion topics, and assignments for the entire term are laid out. All assignments must be submitted on Canvas (no paper). Quizzes are also administered on Canvas which saves valuable class time and also provides students with immediate feedback.  This also allows students to track their grades and even perform "what if" analysis on future assignments (grades).  Our graduates will work in a world where technology and automation are commonplace and both will continue to advance quickly. Our students need to be comfortable working in this environment with contemporary tools.
Finally, one of the most powerful techniques is to expose students to hero's – those who have been successful in a professional environment – business people, entrepreneurs, elected officials, thought leaders…  Our students need to be exposed to successful people, learn from their experiences, and take away the idea that "if they can do it, I can too!"  We invite these inspirational leaders to class either in person or virtually using tools like Zoom.  Pub Talks (see eClub) were established on the same basic principle.  Here is representative sample of class visitors (30+) we have hosted.
Now to specific classes
BA 498, Business Policy & Strategy, is the capstone for undergraduate business students, and is a course that I've taught for many years, at several different universities.
The goal of the capstone is to bring together everything that students have learned from their degree program – accounting, finance, marketing, management, operations, and more.  We do this on two different levels.  First, students are required to cover the core business policy and strategy curriculum presented in the textbook – augmented with current examples/readings.  This includes readings, class discussions, and online exams to help evaluate progress.
Students are also required to complete a real-world group consulting project with a community partner. The projects chosen benefit the community in some way, but they also give the students the opportunity to apply their skills in a practical fashion. The projects also have enough substance that they can be used on the students resume and they also have the opportunity to build professional contacts that could help in the future.
Unlike problems pulled directly from the textbook, these problems do not have just one right answer. I build relationships with the client and manage the projects for the class.  However, students have to negotiate a Statement of Work (SoW) and a set of deadlines directly with the client.  They need to manage common problems like incomplete data, unrealistic client expectations, phone calls that are not returned, team partners who do not contribute fully or communicate well …  This is just like the real world.
This is a new experience for most students. There are many who just want "the answer" – even though there may not be one "right" answer.  Honestly, in life, there are times when there are no good answers. Sometimes we just have to choose the least objectionable of the bad outcomes that are available.
I work hard to coach and nurture them through the process.  We discuss obstacles and different approaches and tie them to concepts that are discussed in the curriculum.  Students can sometimes have a "deer in the headlights" look for the first six weeks and then break-through and deliver. There is tremendous pride visible pride once students have presented the final results to the client.  
The projects are presented to the client in person for on-campus courses – online students develop a YouTube presentation to share with the client. Students are required to present their work professionally, answer questions in real-time, and explain/defend their results and recommendations.
In general, clients are pleasantly surprised with the results and grateful for the help. This sentiment is communicated by clients in the reference letters to the right. In fact, at a recent Pub Talk event (1/9/2019), Nicole Lewis, a rising country music star, praised the work of our BA 498 students, and shared their work with the audience.  The bulk of our current work comes from the referrals of prior clients.
This approach takes a lot more work and preparation on my part; however, based on student comments and class discussion, the results appear to be far superior to textbook readings and canned lectures alone – though we have those too. This process is intended to help produce graduates that are ready to take on a meaningful professional role from day one – it is also comparable to what they would receive at other public universities in Oregon. Samples of the projects we have worked on are presented below.  We have completed over 30 (BA 498) projects for community partners since 2016.
We have had many clients, government officials, and university executives in class to see presentations, including: Tom Insko (EOU President), Tim Seydel (VP, University Advancement), Ben Welch (EOU Track Coach), Gary Keller (EOU Professor), Steve Clements (Mayor of La Grande), Jack Howard (Union County Commissioner), Scott Fairley (OR Governor's Office), Randy Jones (OR DEQ), Troy Little (Division Manager, Boise Cascade), Steve Lyon (Human Resources Manager, Grande Ronde Hospital), among others.  The YouTube videos from online students have been widely distributed by our clients as well.
Beyond the capstone
BA 464, Promotion Strategy, and BA 465, Consumer Behavior, are two areas of marketing where we spend time learning more about target markets, buying behavior, building awareness, and driving sales. The last time this course was offered we built promotional plans for two local businesses – West Side Bakery and Yia Yia Nikke's.  Students visited both businesses, talked with the owners, learned more about how they operate, and made an effort to understand their vision. Students then owned the task of defining the missing elements of the marketing mix (5 P's) and producing a promotional plan the owners could execute with a total budget of less than $5,000. 
We finished up the term with a coffee hour and a student presentation. The business owners spent one hour sharing samples of their food with all College of Business students and answering questions.  Then students presented their promotional plans (in class) and answered questions.  The ultimate goals of this exercise was for students to learn while doing, to forge a tighter relationship between EOU and the community, and to help two small cash-starved businesses be successful. Both the students and the business owners reported that this exercise was a success.
In prior terms students have had a chance to design a food truck offering, create the ultimate breakfast spot, and design the best possible lunch destination. These projects included visiting existing providers, conducting university-wide student surveys, and exploring what other campuses have to offer. These are all practical skills, used in industry, that students have a chance to master.
BA 346, E-marketing, teaches students how to market products and services online. This class has evolved from a (mostly) empty shell with the textbook slides posted, to a much richer hands on experience.  Students now acquire deeper technical knowledge with practical projects and exercises.  Students learn to write simple HTML, build a personal website, create a LinkedIn profile, and use social media to promote a business.  They also learn the essentials of getting a business online, getting noticed (e.g. SEO, PPC, banners, blogs…), and creating a buzz (e.g. email, viral marketing, social media…).
The term project is to develop an online marketing plan for a local business with no more than $1 million in revenues. The students approach a business and ask for permission to perform an analysis and online marketing plan. They interview the owner to understand the goal(s) for their business, which tools are being used, and the budget available for future promotions. Then the students perform a situation analysis and apply what they have learned in class to build an online marketing plan. The plan that they have developed is shared with the owner of the business. Blake Bars, General Manager of Nature's Pantry, a recent client expresses his thanks in the letter to the right.  This is pretty typical of the responses we receive from our business clients.
Examples of specific BA 346 projects are called out in the project list presented earlier.  There are several examples of student work product below.  We completed five more of these projects for local businesses in Fall 2019 alone.
Based on my experience in the industry, and my knowledge of current industry trends, students who complete this class will know as much, or more, about online marketing and e-business, then many professionals working in marketing.
BA 450, Retailing & Sales, explores retail sales channels and the profession of sales overall. The textbook guides students through the fundamentals of retail sales. I've built out several additional modules that expose students to sales as a profession/skill. We explore retail sales, in-bound telesales, outbound telesales, and direct (enterprise/B2B) sales. Students also have the opportunity to design their own original retail store concept working in teams.
We designed this class from scratch and it is still taking shape. This class is a little challenging because of the radical changes in the landscape of the retail environment. On one hand, there is the retail apocalypse which is rapidly culling the weaker players in traditional brick and mortar retailing. On the other hand, we are also seeing exponential growth in online retail sales. Online retail sales now account for more than 11% of all retail sales in the United States, and we are not the biggest, or fastest growing, market in the world any more. It seems clear from the current research that retailers that want to thrive in the future will need to master both online and offline and our academic offerings are well behind the curve. We are still working hard to bridge this gap.
BA 454, Product Planning & Development, is a marketing elective that I developed to cover the "product" element of the marketing mix. This is a course we used to teach, but it was dormant for many years. When I received the course shell, there was no textbook, no exercises, and only content from Wikipedia (quite literally). I located a suitable textbook, created a syllabus, and developed/delivered the course. This is an important marketing topic that is often only covered at the graduate level in many universities – we deliver these skills in a rich engaging way to our undergraduate students. As a specialized marketing elective for students with a marketing concentration, enrollment has been low, but student feedback has been positive.
BA 460, Entrepreneurship, explores the foundation and concepts associated with entrepreneurship. The pursuit of new product/venture ideas is the cornerstone of global economic growth. This activity is essential for creating new ventures (entrepreneurship) and sustaining the vitality of existing ventures (intrapreneurship). Entrepreneurship is also the single greatest source of social change and personal wealth.
This course explores the common sources of new ideas and innovation, techniques for evaluating opportunities, and the legal principles that guide selection of structure and protection of intellectual property. This course also examines the tools and techniques used to identify required resources, pull together a team, and organize/operate effectively. I've been building new ventures for 25+ years and I still maintain a close connection with the entrepreneurial community in Oregon and the larger technology industry. We explore information from the textbook and I also share my own hands-on experience building new ventures.
Students have an opportunity to use what they have learned to create a business plan for a high growth enterprise. We have had several students work on ideas that they may ultimately try to pursue commercially. As an experienced entrepreneur, I'm always available, even after the conclusion of the course, to provide advice, coach students, and make connections.
Class registration for this non-core business elective course remains high at ~20/students per term. It is currently only included in the approved electives for the Leadership and Management concentration. Enrollment could be even higher if the course was also approved for the marketing concentration – the focus of most entrepreneurial ventures is sales and marketing until they can hit break-even or achieve break-through revenue growth.
We have extended this idea with the creation of the Entrepreneurship Club (eClub). The eClub gives students the opportunity to create new inventions, meet entrepreneurial hero's and hear their stories, and operate a business as a fund-raiser. The eClub is covered in detail in Contribution of the Institution.
BA 260, Introduction to Entrepreneurship, is similar to BA 460, except it is available to all students, all majors, from across the university. This class is based on a similar one that I taught at Oregon State University (OSU) and our course is approved for transfer credit for OSU students who want to take it from EOU online. I wrote the syllabus, received EPCC approval, developed the content, and delivered the course online.
This course provides an opportunity for all students explore entrepreneurship regardless of major. This class is not the end game. This class is the first step towards creating a broader offering, like an entrepreneurship minor, that students from across the university can embrace, even if they have no experience in business, and their real passion is in science or the arts.
BA 313, Principles of Finance, is the only finance class offered in the undergraduate program in the college of business. In 2017, Steve Clements, who taught most of our finance courses, retired from EOU. Steve was not replaced and I was asked to take on the task of teaching BA 313. I have an undergraduate degree in Finance, and graduate level coursework in the field, but I've never taught this course at the university level. The existing course was composed of the lectures (slides) from the textbook, textbook-based homework problems, and a shell that was not organized into modules.
I usually like to teach the first 1-2 terms of a new course using the existing structure and materials to see what works. I make adjustments after that based on my experience working with students in class and the feedback provided by students. That was not entirely possible given the structure of the existing course. At this point, I've rebuilt most of the discussion presentations (slides), created weekly content/videos for the online sections, and built in more real-world examples. I've tied the class material and key concepts to core economic principles and the business cycle, which are practical skills that students will use in other courses, and throughout their career.
Grading student homework can be a significant challenge for this course. Students are required to use Excel to complete and submit their assignments. This is a required core course in the business administration degree program. There is sometimes 30+ students submitting spreadsheets for weekly grading. If there is a problem with a student's homework, then I have to sort through the formulas used by the student, and try to identify the issue. I have added standardized point totals and rubrics for all assignments. The homework answers are posted online and visible for students the day after assignments are due for immediate feedback. However, more needs to be done to refine this process and speed up grading.
Last term (Fall 2019) we added a stock game that allows students to create a portfolio of securities and execute weekly trades. We start out by learning about stock exchanges (e.g. NYSE, NASDAQ, …); then start trading with blue chip common stocks; and slowly expand the universe of potential investments to mutual funds, exchange traded funds (ETF's), and other options. We also tie the performance of individual securities back to specific economic events in the news (e.g. cause vs. effect).
Students look forward to the weekly stock trades and exploring the economic factors that could be responsible for price movements. Class observations and student feedback confirm the level of student engagement in this activity. We will more tightly integrate this exercise into the core of the on-campus course next term (Winter 2020). In spring we will also integrate this exercise into the online course – coordination of group activities can be a challenge online. In Winter term we will also transition to a new textbook and restructure the homework assignments to more closely match class sessions (discussions).
Given the number of courses that I teach (24) this is only a sample of the high points. These classes are far from perfect, but they are miles ahead of where they started. I will continue to refine and enhance them even further moving forward. Crawl, walk, run…
Professional Learning Outcomes
All of my syllabi have learning outcomes and the assignments are designed to assure that they are met. Please see the sample syllabi posted for more detail.
Class evaluations were generally good. Participation rates were low, generally ranging between 10% to 30% of course students. Using the Agree (Strongly Agree, Agree, Somewhat Agree) evaluation criteria, and excluding undecided and N/A, 92% felt the syllabus was clear and there was an organized schedule in place; another 94% felt communication was encouraged, they were challenged to develop new skills, and the instructor exhibited a deep understanding of the subject matter. I encourage direct feedback in class and have assignments built into the course that request feedback.
My general policy is to respond to student email within two hours during work hours – usually faster if I'm not in class/meetings. Students are also given a Calendly link where they can schedule time directly with me. Even with COVID students can reach me during office hours using Zoom or schedule a Zoom call with me. In some classes, such as BA 313 and BA 498, students are invited to suggest additional topics they want to learn about (beyond the core). I continue to refine course structure/content based on student input and to find ways to increase engagement and accelerate grading/feedback without sacrificing academic rigor.
We are not currently performing A/B testing to validate the effectiveness of engagement and experiential learning in my courses, when they are compared to more traditional lecture-based courses. The benefits of experiential learning, which requires engagement, are well documented in the literature. We will do more in the future to objectively evaluate this style of instruction within the context of my courses.
All of my courses, online and on-campus, are available on Canvas (including grades). In the modules section of Canvas for each course, there is a specific module that provides the course summary, my background, a textbook search tool, and a printable (PDF) version of the syllabus. If there is a term project, that can be found in a separate module just after the class information. The entire class is organized by weekly module and all the presentations and materials for each week are posted in the appropriate module for that week. The quizzes and assignments are all posted on Canvas and submitted through Canvas (no paper).
Sample Course Organization and Structure
There is a welcome message that goes out every Monday (both online and on-campus courses) that describes the focus for the week and directs students to the correct module on Canvas. I also provide important updates on the course and remind students of key deliverables. The comments typically include content regarding current events, local activities, or EOU athletics, to add to the fun, connect students to the university, and so that students can tell it is not a canned message. There are additional examples in the engagement video posted earlier.
In the announcement for on-campus courses, I walk the students through our activities for the week (high-level), and then we have our discussions in class.  The instructional model is a little different for our online students.  The weekly module for online students starts with an item called "readings, articles, and videos" (see diagram above).  This page describes all the current activities for the week, contains a discussion of the topic, and usually has videos or other readings for the student.  In addition, students will find the discussion materials (slides) for the class, a discussion post, and a weekly quiz for the current week. On occasion there will be other materials/links.  The goal is to make sure that everything is well scripted and very easy to find.
I read every discussion post and provide detailed feedback – this is part of the learning exercise.  Students tell me that this is uncommon and they really appreciate it.  When students send me an email, my goal is to respond the same day – within minutes if I'm sitting at a computer (even on weekends).
This seems to work pretty well and I continue to refine this process/structure.  However, as noted earlier, my courses are not perfect, there are a couple of things that I'm working on.
BA 498 requires the student to complete a consulting engagement with a community partner.  Online students build a presentation and an online (YouTube) video rather than presenting face to face. We provide detailed instructions for the students and I use this kind of assignment in a couple of different classes – so we seem to have the technical details figured out.  However, I've discovered there are two additional obstacles with online students.
First, they don't like group projects and they feel like they should not have to do them. In fact, some students tell me, even as graduating seniors (BA 498), that they have never done a group project in an online class. If they have taken other classes with me, then this will not be a new experience.  When talking with most employers, communication skills are at the top of the list; and working with remote colleagues, or geographically distributed teams, is extremely common. This is an essential skill that students must master to be successful in the professional world.+
Second, these projects really do take 10 weeks from start to completion.  However, student's report that they don't even hear from their teammates for long periods of time.  They also seem to have trouble coordinating meetings (which makes it even more important that they learn this skill).  I provide frequent reminders and encouragement for online students – it still does not seem to be enough.
This is the challenge that I took to the Summer Teaching Institute in 2017.  You will find a link to the presentation that was used on the right.  This was presented to the faculty in attendance, I received feedback from the group, and implemented these changes starting in the Winter term of BA 498.  Students seem to experience less anxiety and the projects submitted are much higher quality.  I've now adopted a similar structure for the group projects in my online sections of BA 346 and BA 460.
The challenges faced when grading/feedback in BA 313 were noted earlier.  One related challenge is the course load that I've been asked to teach in the College of Business. Over the past two years I've been assigned 16 – 25 credits/term, with many new preps (rebuilds), along with advising 30+ students.  In fact, I was originally scheduled to teach 7 courses this Fall (2019). BA 346 and BA 460, both marketing electives, have become much more popular (40+ students Fall term). This all creates pressure on planning/grading and takes away from my ability to complete my research work.
I've discussed this problem with the new Dean of the College of Business. He has trimmed my current course load to no more than one overload course/term this year.  A new textbook and a more integrated version of the stock game will be introduced for BA 313 in Winter, we are also refining homework assignments and transitioning the stock game to an online version in Spring. The Amazon case study will also be integrated into BA 498 on-campus in Winter and the online version of the course in Spring.  Outside of these changes, there are no other new preps scheduled for 2019 – 2020.  These changes have already led to better planning, more rapid student feedback, and more rapid progress on my research work.
I actively listen to feedback from students both online and on-campus and improve my course offerings on a continuous basis. I'm also working on integrating more extensive feedback mechanisms directly into the course offering.
Representative samples of syllabi can be found by following the links below.  There are on-campus and online versions of most syllabi.
Academic Advising   
A list of my current and past student advising load can be found below.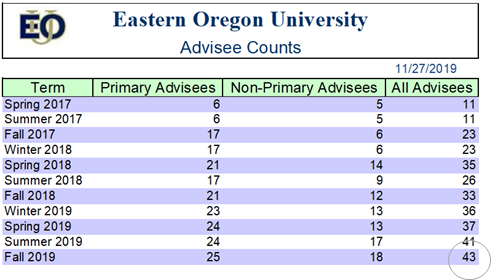 Institutional Records and Descriptive Information     
A complete list of all the courses that I've taught since coming to EOU included below.  The grade distribution for these classes is also included. 
As discussed earlier, BA 498 classes require students to complete a consulting engagement with a community partner.  This is summarized above and examples are provided. In addition, most of my upper level courses require the students to complete a group project.  Whenever possible, we engage with a community partner, and solve real world problems.
In 2015 I performed an analysis of the marketing curriculum offered by other regional universities in our area, we discussed this material as a marketing faculty, and then made the recommendation to retain our marketing concentration.   You will find a diagram below that outlines our offerings in marketing and shows how they relate to each other and to the topic. In addition to teaching the marketing core (BA 312), and most of the our marketing electives, I also teach Entrepreneurship (BA 260, BA 460), Finance (BA 313), and Business Policy and Strategy (BA 498 – the capstone).
I developed two courses from scratch of the last two years, BA 260, Introduction to entrepreneurship, and BA 454, Product Planning and Development.  I also worked with OSU to assure that BA 260/BA 460 qualify as transfer credits.  I've completed 19 new course preps since starting at EOU.
I continue to work on initiatives across campus relating to entrepreneurship.  There is more information on this activity in Contribution to Institution.
I was a member of the team that spent a year redesigning our MBA curriculum.  In fact, many of the course syllabi for our core courses, and some potential electives were written by me.  You will find links to sample course syllabi below.  I also developed the MBA personas to help capture the type of student we are targeted and wrote an initial marketing brief for University Advancement to market the program.

new text (313)/Amazon (498)
Grade Distributions
Grade distributions for my courses over the past four years are attached.  This distribution is consistent with both the college and the university ranges.

Classroom Observations
Dean Mielke (retired), College of Business and Education visited two of my classes (one on campus and one online) in 2017.  Dean Henninger, College of Business, visited two of my classes this term and reviewed my online course materials.  Peter Maille and Bill Grigsby, both tenure faculty, performed classroom observations and reviewed my online course shells.  Classroom observations were previously performed by tenure faculty members Gary Keller and Shari Carpenter.  Links to the formal class evaluations can be found on the right.
Scott McConnell, Steve Clements (retired), Doug Briney, and Peter Maille (tenure faculty) have all attended my classes for student presentations and/or exercises. Luke Aldrich also attended a recent class and provided an informal review (right).
As discussed earlier, we have frequent class visitors (speakers), and we present projects to community partners. We have had the opportunity to welcome many people into our class to participate.  A representative (not exhaustive) list would include: Tom Insko (EOU President), Tim Seydel (VP, University Advancement), Ben Welch (EOU Track Coach), Steve Clements (Mayor of La Grande), Jack Howard (Union County Commissioner), Scott Fairley (OR Governor's Office), Randy Jones (OR DEQ), Troy Little (Division Manager, Boise Cascade), Steve Lyon (Human Resources Manager, Grande Ronde Hospital), and many more.
Alumni
The names of twelve reference students are included below.  This sample stretches across my time at EOU, with nine undergraduate alumni, and three current/past MBA students.  In addition there are reference letters from former students at Concordia University and Portland State University.  There are also several letters from past/present students on the right.
16-17/College of Business
16-17/College of Business
16-17/College of Business
jjensen@pershing.k12.nv.us
17-18/College of Business
18-19/College of Business
18-19/College of Business
18-19/College of Business
18-19/College of Business
18-19/College of Business
18-20/College of Business
18-20/College of Business
18-20/College of Business
Student Reference Letters
Portland State University BS Student, School of Business, BA 495 (capstone)
Student Awards:
Student Comments: