Contribution to Institution
I've demonstrated my Contribution to Institution in many ways. I have served on more than 10 committees, served on one Trek Leadership Team (TLT), and served as the Team Leader for a second TLT team.  I also helped craft the values for the university, the strategic plan, and our key performance indicators.
Several outcomes of this work include the creation of a detailed profile for our different student audiences, an outline of our recruiting funnel, and a description of our marketing techniques. I'm also been asked to build a student enrollment forecasting model for Institutional Research.
I established the Entrepreneurs Club (eClub) and serve as Faculty Adviser, launched an inspirational speaker series of Pub Talks, and I'm a frequent contributor to the College of Business Coffee Hour. These items make attending the university a richer experience and a fun place to be. Over time these activities will inspire students and contribute to retention.  The details of all these activities are covered below.
University Council
I'm currently in my sixth year serving on the University Council (UC). The university council is made up of representatives from university leadership, faculty, administrative staff, and students from the university.  We tackle issues that are strategic to the university.  I've been elected to serve as recorder (one of three committee elected positions) three times during my six year term.
During the first year we reviewed, revised, and published the values for the university. We also adopted strategic goals and KPI's for the university. This process required reaching across the university, in a variety of different settings, to make sure the values and goals of all the university stakeholders were taken into account. The university values and strategic plan have now been published and adopted by the university Board of Trustees. Since that time we have been reviewing, revising, and adopting university policies (this was required based on the demise of OUS). I was also part of a team that explored Goal 4 from the Ascent (strategic plan) to come up with concrete actions we can take.  The results of this research were presented to the university council and the other colleges.  There is quite a bit of new work to address as we start out the new academic year.
Tuition Advisory Committee (TAC) The state requires, by statute, that the university maintain a Tuition Advisory Committee, to perform research and make recommendations on student tuition. The committee is composed of members of the university finance team, the university student recruiting/advising team, faculty, and students.  We reviewed the proposed budget for the university, along with different state funding scenarios, and considered different adjustments to expenses/tuition.  We also reviewed current tuition rates, the history of tuition increases at EOU, and the growth in student enrollment and tuition at other public universities in Oregon.  Based on our discussion and analysis, I wrote a recommendation for the committee, and presented it to the Board of Trustees for consideration.
Strategic Policy and Operating Committee (SPOC) 
SPOC was formed by the university executive leadership to review and create a framework and KPI's for the strategic plan of the university. I was able to draw on my experience in strategic planning, executive leadership, and management consulting, to help create a cohesive strategic plan for the university.
Charter Team: Recruiting & Retention
The role of the Recruiting Charter Team was to examine our recruiting practices to try and meet our enrollment goals and retain (graduate) a larger percentage of our students. One of the outcomes of this committee work was to establish mandatory advising for the College of Business. We explored our current recruiting practices in an effort to formalize our enrollment process. We also established expanded relationships with our community college partners and created a framework for marketing plans across our regional centers. In addition, we created a marketing plan that allowed us to exceed our enrollment goals for the MBA program.
Charter Team: Advising
I served at the Group Leader for the Advising Charter Team that explored ways to increase enrollment and retention through better advising practices. We completed a university student survey that helped us understand why online students choose EOU.  This will be essential for the university as we move forward and try to achieve the aggressive enrollment goals laid out in the strategic plan. We also spent time defining the student lifecycle and the activities that come into play, we created FASA workshops for students, and we identified, and even implemented, new features in Canvas to make online and on campus learning more effective.
Other Committees (Roles)
Interinstitutional Faculty Senate (IFS), Faculty Senator (Executive Committee), 2020
Higher Education Coordinating Committee, Online Course Exchange Steering Committee, IFS Representative, 2020
Association of Academic Professionals, Executive Committee, 2020 – current
VentureWell, National Collegiate Inventors and Innovators Alliance, Member, 2020
Bi-Mart Scholarship Committee, Committee Member, 2016, 2017
Industrial Systems Technology Advisory Committee, Blue Mountain Community College, Committee Member, 2016 – 2018
Title III Grant Team, Online Campus Coordinator, 2017
Diversity Committee, Committee Member, 2016 – 2019
Safety Committee, Committee Member, 2018 – 2019
Core Themes Committee (for accreditation), Committee Member, 2018
Teaching and Learning Technology Coordinator Search Committee, Committee Chair, 2018
College of Business Dean Search Committee, Committee Member, 2019
Campus Security Authority, Eastern Oregon University, 2019
Training & Conferences
Understanding SPACs: What's behind the hype?, Wharton University, April 21, 2021
website
2021 Economic Outlook, Kruse Way Economic Forum, April 21, 2021
video link   presentation
Getting – and Then Keeping – Students Engaged, Harvard University, March 31, 2021
video link
Vision Summit, Inc. Magazine, March 24 – 25, 2021
website
AAP Grievance Training, American Federation of Teachers (AFT-Oregon), March 18, 2021
Open 2021, VentureWell Annual Conference, March 17 – 19, 2021
website   confirmation
Industry, Engineering & Management Systems Conference, March 15 – 17, 2021
website
What are Federal Certifications and Steps to Getting Certified, Oregon Procurement Technical Assistance Center, March 10, 2021
Boost Your Team's Virtual Selling Success, Sales & Marketing Management Magazine, March 10, 2021
SEC Startup Workshop, U.S. Securities & Exchange Commission, March 2, 2021
video link
Corum Tech M&A Monthly, Private Equity Panel, Corum Group, February 11, 2021
Fostering Creativity, Collaboration, and Inclusivity, MIT Sloan Management Review, January 19, 2021
Advocating with Authenticity, MIT Sloan Management Review, December 3, 2020
New Scholars Workshop, Walden University, November 14, 2020
Oregon RAINmaker 2020 Sales & Marketing Accelerator Program
certificate   Wyden letter
Title IX and Sexual Harassment (Full Course), November 4, 2020
certificate
Adobe MAX 2020, Creativity Conference, October 20 – 23, 2020
agenda
InventOR, Train the Trainer Workshop, October 16, 2020
details
ASU + GSV Virtual Summit 2020, September 29 to October 7, 2020
certificate
Collegiate Entrepreneurs Organization, Business Formation Bootcamp, July 2020
agenda
9th Annual Deshpande Symposium, June 11 – 12, 2020
agenda
EOU Affirmative Action Ethics Training, August 25, 2017
certificate
Developing Your Food Product Idea, Food Technology Center, University of Idaho, 2017
Grant Writing USA, Kennewick, WA, May 31 – June 1, 2018
details   learning objectives
InventOR, Train the Trainer Workshop, August 22 – 24, 2018
details
Summer Institute for Instructional Technology (SIIT), 2017, 2018, 2019, 2020
details
InventOR, Train the Trainer Workshop, August 30 – 31, 2019
details
Research Ethics & Compliance Certification, November 15, 2019
details   transcript
Crucial Conversations, La Grande, OR, December 16 – 17, 2019
details   certificate
Title IX: Roles of Responsible Employees, December 29, 2019
details   certificate
Intellectual property training in 2018 and 2019 at InventOR – John Cabeca, Director, Silicon Valley US Patent and Trademark Office
Faculty (weekly) Writing Group administered by Donna Evans for 2018 – 2019
Speaker Series (Pub Talks)
I currently serve as the Faculty Adviser for the Entrepreneurship Club (eClub). The Business Leaders of Tomorrow (BLOT) Club has been transformed into the eClub. The eClub hosts entrepreneurial (inspirational) speakers and visits to local businesses. The goal is to expose students to entrepreneurship as a potential career, help them build a network of professional contacts, and have fun in the process.
We host a speaker series both on campus (in class) and at offsite venues. The offsite events are called Pub Talk.  The most recent Pub Talk events were held at Side A Brewing and Firehouse Museum.  These events were co-sponsored by Eastern Oregon Ventures, Side A Brewing, and Union County Chamber of Commerce.  The events have also received contributions in the past from Safeway, Yia Yia Nikke's, and other local merchants.  The goal is to have inspirational entrepreneurs (hero's) share details around their entrepreneurial journey.  We want to inspire the next generation of entrepreneurs, connect the university to the community, and create a forum for community/professional networking.  eClub members brainstorm potential speakers and then help with planning and promotion.
The attendance at these events has been steadily growing.  Our Fall speaker, Tres Shannon, co-founder of Voodoo Doughnuts, filled the Firehouse Museum.  Our latest speaker, rising country music star Nicole Lewis, was standing room only as well.  We Livestream the events on the Internet for those who can't be there in person.  The Oregon Entrepreneurs Network (OEN) helps us promote the event across the state.  We record the sessions so that students can learn from them in the future.  They can also serve as the real-world basis for class exercises.  Professor Keller is using the recording of Rick Miller's talk in his management class now.
You can access all the Livestream recordings here.  The table in the Instruction section provides more detail on presenters that attend classes.
InventOR (Statewide Competition)
The eClub participates in the 

InventOR statewide prototyping competition

 sponsored by the Lemelson Foundation and administered by Portland State University. Unlike most entrepreneurship "pitch" competitions, InventOR is much more focused on the invention, rather than the business – though, true innovation does require commercialization.  Jerry Lemelson, with over 600 patents, was one of the most prolific American inventors of all time.  The Lemelson Foundation wants to inspire young entrepreneurs to create new ideas.  Students who compete are given $2,500 in cash to create a prototype.  Then they attend the statewide competition to compete for $25,000 in cash prizes and a chance to "pitch" their idea at the Bend Venture Conference (one of the largest in the West).  We sent two teams to the statewide finals in Klamath Falls in 2018.  We sent two teams to the regional competition in 2019, and one advanced to the statewide finals in Portland.
This statewide finals this year will be held in Albany, OR.  Since this competition does require invention, it is a great opportunity to collaborate with the other university colleges. We worked with the Computer Science department to build a prototype of a smartphone application last year.  EOU science faculty also helped one of our business school students work out the requirements for a small portable oven and the components required. We are actively working on finding collaborative ideas that cut across colleges for competitions in the future.

Some clubs sell candles and trees to raise funds, eClub members expressed an interest in starting a business. : )  We collaborated with the lead display designer for Keen Footwear and created four original EOU spirit designs.  The club selected two to start with and we had t-shirts produced.  The eClub plans to sell the t-shirts at local EOU sporting events ($20 for non-members, $16 for those who sign-up for membership).  Safeway corporate is also investigating the possibility of featuring them in the local supermarket.  In the future, the eClub will put up a website and sponsor a student competition for new designs.  This venture gives the students hands-on experience with starting/running a new business venture.
The eClub was an earlier visitor to Side A when the business was just a vision and we followed the progress.  The club has visited Wildhorse Casino in the past to learn more about how the business operates.  The eClub is putting together a ping pong tournaments that will be hosted at local businesses.  The eClub is also considering additional business visits in La Grande, Hood River, and Portland.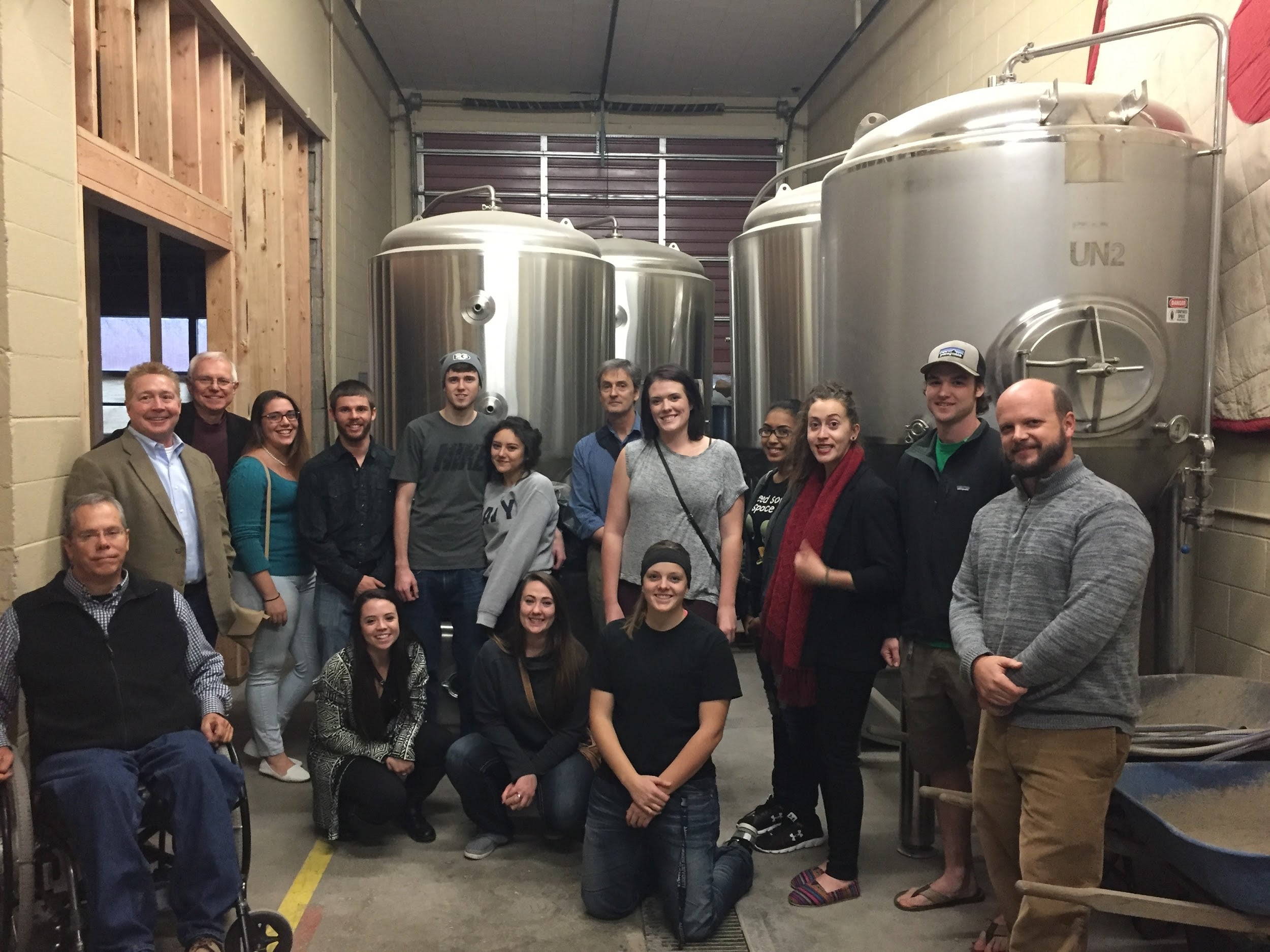 Venture Conference Visits
An eClub member attended the Willamette Angel Conference in 2017.  We are looking at way to provide more club members with that same opportunity.
Entrepreneurial Ecosystem
Student teams have performed research in the past on the state of the entrepreneurial ecosystem in eastern Oregon.  The target of our research was the four counties along the I84 corridor in eastern Oregon (Morrow, Umatilla, Union, Baker).  We have worked with the OEN and Eastern Oregon Ventures in the past to secure grant funding that will allow us to create and nurture the ecosystem.  We have a good working partnership and there are state and federal funds available.  The eClub will assist with grant proposals for several upcoming sources of funding.
Venture Conference Visits
We continue to explore the idea of a 

Maker Space

 on campus.  The university already has quite a bit of equipment on campus (e.g. wood shop, metal shop, physics lab, electronics lab, …).  The facilities team at EOU is creating an inventory of our current equipment as a first step. The current idea is to start with a virtual Maker Space that links our equipment and capabilities into a single lab using an online interface where entrepreneurs can schedule lab time. Quite a bit more planning is still required to bring this offering to life.
We are always on the hunt for new ideas that are fun and interesting for club members.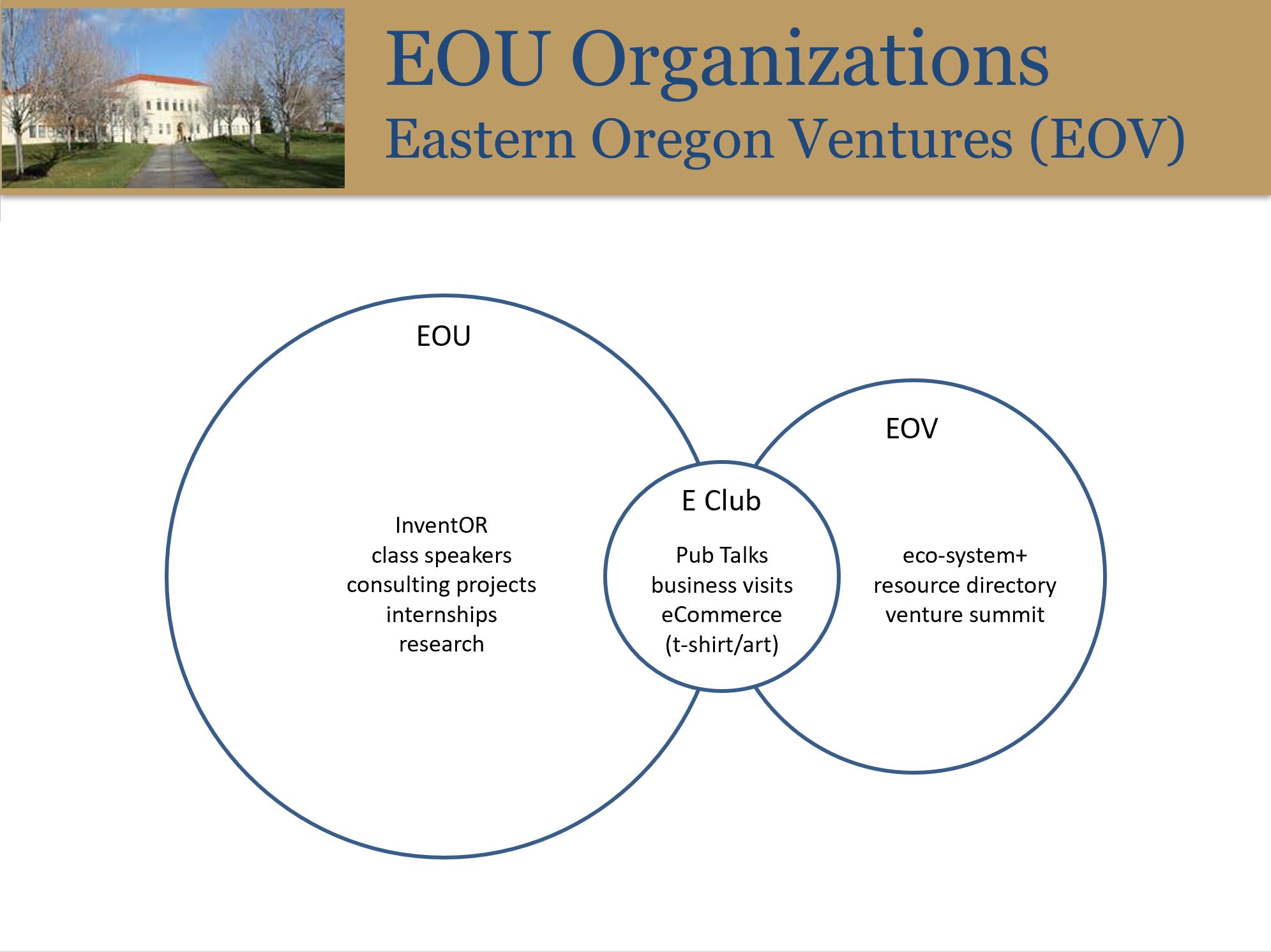 Entrepreneurship is a very hot topic at most major universities across the country. We have a lot of catch up work to do, but we do have some momentum. This effort has the potential to pay dividends for the university and the region for years to come.
College of Business Coffee Hour
The College of Business Coffee Hour started out as a fun way to provide students with a forum for engaging with faculty outside the classroom and to encourage attendance and participation. The entire College of Business team collaborates to make this event a success. I've tried to come up with creative themes for the days when I host (usually once per term). The focus is coming up with themes that allow students to explore new food concepts and their own creativity. Just a small sample includes: Hawaiian Luau, regional hot dogs of the United States, 1970's breakfast foods, and others. I sometimes also use class assignments to tie Coffee Hour into the theme and encourage more student participation. These events are sometimes done in partnership with the eClub. There are a number of local restaurant owners/retailers that have also participated (co-sponsored) in the past.